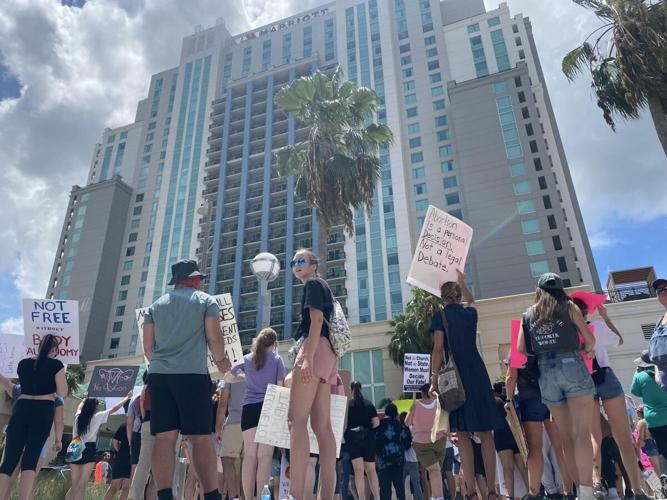 Protesters gathered outside a Moms for Liberty event in Tampa in July, 2022.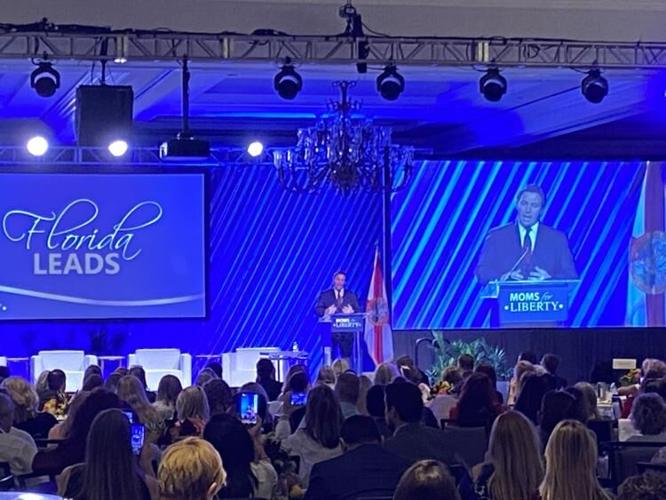 Florida Gov. Ron DeSantis speaks on July 2022 at a Moms for Liberty event in Tampa.
SARASOTA — Members of a national group that started locally don't feel like they are part of a hate group.
But that's how they've been pegged.
Moms for Liberty earned the designation through the Southern Poverty Law Center's annual report Year in Hate & Extremism.
The group was started locally by Sarasota County Schools board member Bridget Ziegler along with other Florida women.
On Tuesday, the group was declared problematic by the longtime civil liberty group based in Montgomery, Alabama.
"Schools are a primary target for locally driven extremist mobilization," it stated in a news release that came along with the report. It said there were a dozen "anti-student inclusion groups" that led a movement.
The groups aim "to gain power through school boards to attack public education, ban books, and remove any curriculum that contains discussions of race, discrimination, and LGBTQ+ identities," it said. "One group at the forefront of this mobilization is Moms for Liberty, a Florida-based group that the SPLC has designated as an anti-government extremist group in 2022. "
SPLC Intelligence Project Director Susan Corke said the "hate and antigovernment" groups are "intent on staging public spectacles of hatred that harass, threaten and violently harm Black, Brown, Asian, Jewish, LGBTQ+ and immigrant communities."
"Schools, synagogues, and LGBTQ+ businesses — venues that have traditionally been safe spaces for our children, the Jewish community and LGBTQ+ people — are now on the frontlines of hatred and violence," Corke stated. "We all have a responsibility to speak out against hate, extremism, and violence when we see it, and encourage those in positions of power to fulfill their duty to act."
On social media, Moms for Liberty leaders and conservative political chiefs slammed the designation.
"Last year the Biden White House worked with the NSBA to label Parents Domestic Terrorists," it stated in a tweet. "Today, the SPLC labels our organization — an org full of moms who care about their kids — a Hate Group. This is a coordinated attempt to silence and suppress us."
It then sought a donation from its followers.
Christian Ziegler, Bridget Ziegler's husband and a former Sarasota County commissioner and current Florida GOP chairman, defended his spouse online.
"Honest Q (since you know us pretty well): Do you really think (Bridget Ziegler) is an extremist full of hate?" he wrote, responding to a journalist. "Or is it more likely that the SPLC is full of s—?"
Bridget Ziegler did not respond directly to the labeling but retweeted others reacting to it.
"Moms who care about their kids' education are not a 'hate group," Gov. Ron DeSantis' Rapid Response Director Christina Pushaw wrote. "@RonDeSantis stands with @Moms4Liberty and will never back down!"
The SPLC also denoted other organizations as hate groups and noted that, despite convictions following trials of Jan. 6 participants, those types of groups are growing in numbers.
Image Credits: https://libertysrq.com/